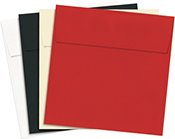 Square Envelopes
Square envelopes are just like they sound, square! They come in a great variety of colors. Like the announcement envelope, squares have a flap which is large in size and square in shape making it very easy to insert contents. Square style envelopes are side seam unless stated otherwise.
Great For: Invitations and greeting cards.
Browse Square Envelopes Below.
Product

Size

Starting Price

25.0000000

( 5 x 5 )
Call for price

30.2500000

( 5-1/2 x 5-1/2 )
Call for price

36.0000000

( 6 x 6 )
Call for price

42.2500000

( 6-1/2 x 6-1/2 )
Call for price

56.2500000

( 7-1/2 x 7-1/2 )
Call for price